General Information

Application Period (Application Closed)
Application Period :
28 December 2018 – 10 January 2019
(Applications submitted before or after the application period will not be accepted)  
The closing time is 7:00 pm* on 10 January 2019.
* Only applicable to HA Green Form Subsidised Home Ownership Scheme (GSH) Sales Unit. Estate Offices / District Tenancy Management Offices and other form receiving offices only receive application forms within their respective office hours.
The office hours of GSH Sales Unit (1st Floor, Pioneer Place, 33 Hoi Yuen Road, Kwun Tong, Kowloon (near Exit B3, Kwun Tong MTR Station) during the application period are 8:00 am – 7:00 pm, from Monday to Sunday (including public holidays).
Date of Ballot: 25 February 2019
Commencement Date of Flat Selection: 28 March 2019
Application Fee
The application fee for this exercise is HK$240. Application fee of HK$240 should be paid by a crossed cheque (the cheque can be issued by applicants or other persons) or cashier's order. The cheque or cashier's order should be made payable to "HONG KONG HOUSING AUTHORITY". The HKIC number and contact telephone number of the applicant should be written at the back of the cheque or cashier's order. Post-dated cheque, cash, gift cheque, postal order and electronic cheques will not be accepted. Application fee paid is non-refundable and non-transferrable. If the cheque or cashier's order is dishonoured for whatever reasons, the application will be cancelled automatically.

Flats for Sale
Please refer to the sales brochure for information on the following Hong Kong Housing Authority (HA)'s development:
Exhibition, Doll Houses and Building Model (Closed from 13 June 2019)
Doll houses and building model of Lai Tsui Court and the exhibition of information for this sale exercise are available for viewing at the GSH Sales Unit on 1st Floor, Pioneer Place, 33 Hoi Yuen Road, Kwun Tong, Kowloon (near Exit B3, Kwun Tong MTR Station).
Opening Hours: 8:00 am – 7:00 pm daily from 21 March 2019 to the end of flat selection period, inclusive of Saturdays, Sundays and public holidays.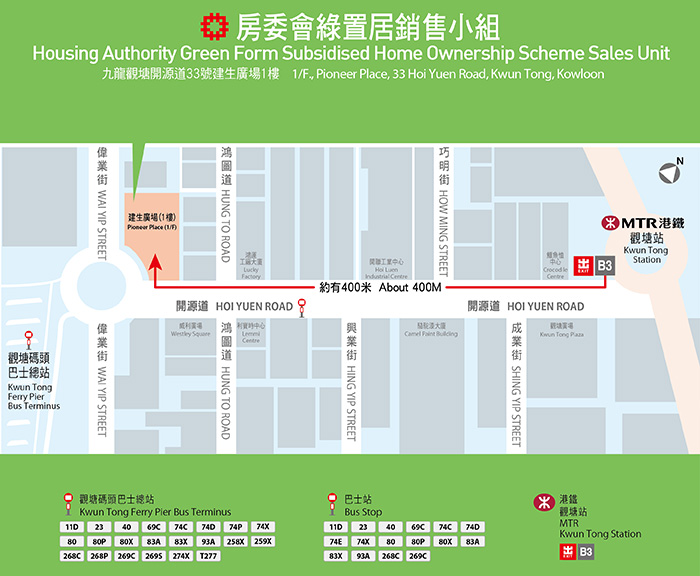 If Tropical Cyclone Warning Signal No. 8 or above / Black Rainstorm Warning Signal (the Warning Signal) has been issued / hoisted or the Pre-No. 8 Special Announcement is issued by the Hong Kong Observatory at 7:00 a.m. on the day, the venue will be closed until further notice. In general, it will be reopened in two hours after the warning signal is cancelled.
How to Download or Obtain Sales Documents
From 21 March 2019 to the end of flat selection period, Sales Brochure of the development can be obtained at the following venue during office hours or downloaded from the following website:
HA Green Form Subsidised Home Ownership Scheme Sales Unit, 1st Floor, Pioneer Place, 33 Hoi Yuen Road, Kwun Tong, Kowloon (near Exit B3, Kwun Tong MTR station)
Website: www.housingauthority.gov.hk/gsh/2018

To Download Application Guide
Hong Kong Housing Authority 'Sale of Green Form Subsidised Home Ownership Scheme Flats 2018' – Application Guide (File removed 13/06/2019)
Frequently Asked Questions
Flat Selection Arrangements When the Tropical Cyclone / Black Rainstorm Warning Signal is Issued
Flat Selection Arrangements When the Tropical Cyclone / Black Rainstorm Warning Signal is Issued (File removed 13/06/2019)
List of Approved Banks / Financial Institutions for Providing Mortgage Loan