Virtual show flat walkthrough videos, doll houses and building models of Choi Hing Court, Ngan Ho Court and Ngan Wai Court, and the exhibition of information for this sale exercise are available for viewing at the HA Customer Service Centre at Podium Level 1, 3 Wang Tau Hom South Road, Kowloon (near Exit A, Lok Fu MTR Station)
Opening Hours: 8:00 am – 7:00 pm daily from 16 August 2017 to the end of flat selection period, inclusive of Saturdays, Sundays and public holidays.
If Tropical Cyclone Warning Signal No. 8 or above / Black Rainstorm Warning Signal (the Warning Signal) has been issued / hoisted or the Pre-No. 8 Special Announcement is issued by the Hong Kong Observatory at 7:00 am on the day, the venue will be closed until further notice. In general, it will be reopened in two hours after the warning signal is cancelled.
To View Virtual Show Flat Walkthrough Videos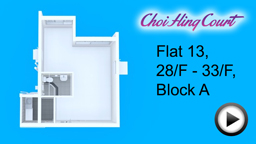 Flat 13, 28/F - 33/F, Block A, Choi Hing Court
Saleable Area: 35.8 square metres (385 square feet)
(MP4 format, 56.8MB)
(Video removed 27/10/2017)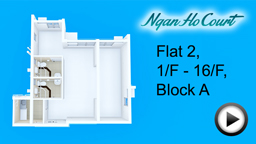 Flat 2, 1/F - 16/F, Block A, Ngan Ho Court,
Saleable Area: 50.4 square metres (543 square feet)
(MP4 format, 58.9MB)
(Video removed 27/10/2017)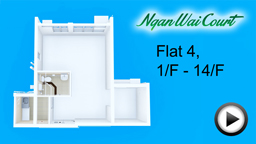 Flat 4, 1/F - 14/F, Ngan Wai Court,
Saleable Area: 41.1 square metres (442 square feet)
(MP4 format, 56.3MB)
(Video removed 27/10/2017)
To View Flat Tour Videos of Re-Sale Flats